COSTA MESA MAN SCALES MT. EVEREST
Elation on Everest // One O.C. climber summits. Another reaches his apex.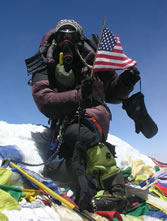 The Orange County Register, June 17, 2003

Byline: DAVE STREGE
One ran out of gas, the other was running out of oxygen.
Two Orange County climbers were at Earth's rooftop making life-and-death decisions as they took stock of their reserves and resolve to summit Mount Everest.
In the end, their choices resulted in one withdrawing short of the peak and the other plodding forward to reach the highest point on Earth.
Yet as different as the outcomes were, both climbers returned with a sense of pride and personal triumph and, most importantly, with their bodies intact.
Jeff Mathy, 24, of Fullerton and James Clarke, 39, of Costa Mesa had spent two months making acclimatization climbs from Everest Base Camp to prepare for this day, this final push to the 29,035-foot peak on May 30. [click for full article]

CHEATING DEATH ON EVEREST
World's tallest peak unleashes its fury on Windsor climber
'I said a prayer and thanked God'
Windsor Star, Saturday, June 21, 2003
Byline: Dave Battagello Star Staff Reporter
Overcoming bone-chilling cold, killer altitude and gale-force winds that threatened to blow his tent off the mountain, James Clarke was within shouting distance of the world's tallest peak when his guide came to him with "bad news."
Clarke's three oxygen tanks had drained with inexplicable speed and the gauge on his last cylinder was dangerously low. Without oxygen, there is little chance of surviving Mount Everest's summit. "It happens sometimes . . . the bottles don't work perfect," the guide told him matter-of-factly. "That is your last bottle. What you should do is turn around and go down." After months of preparation and 60 perilous days stalking the mountain, for Clarke, a former U.S. Army Ranger, Harvard graduate and successful businessman, the choice was simple: "I'm never going to be here again," he said. "You need to give me another option." Facing the most difficult part of the climb with only half the prescribed amount of O2, Clarke's only choice was to scale the flow from his last tank and hope to be near someone with a surplus when it ran dry.
"I realized that this was a foregone decision. Then I looked at the guide blankly and said, 'I'll do it.' "
[click for full article]

CLIMBER LOOKING FOR MORE CONQUESTS
The Orange County Register, January 18, 2005
Byline: DAVE STREGE
And for his next trick, skydiving at the North Pole.
James Clarke, the Costa Mesa climber who turned 41 at the South Pole last month, has been back from Antarctica for a few weeks now, having achieved mountaineering's greatest feat -- climbing the Seven Summits.
Even as he closed in on this accomplishment, completed just before Christmas with the summit of Vinson Massif, friends would repeatedly ask, "What next?"
[click for full article]