Cerro Aconcagua shown on map of Argentina


(map courtesy of CIA World Factbook)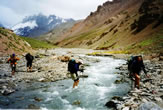 Crossing stream in Vacas Valley approach trek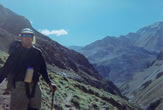 Negotiating ridge high on Relinchos Valley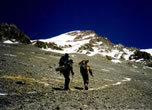 Climbing above 17,000' toward Camp 3
Cerro Aconcagua holds the honor of being the tallest mountain in South America, the western hemisphere, and the southern hemisphere. Rising to 22,840 feet (6962 meters), the peak is located just east of the Argentina-Chile boundary which runs along the main crest of the Andes. Despite its height, the "Stone Sentinel's" location on the dry side of the Andes causes Aconcagua to be less glaciated than the other large peaks of Peru and Patagonia.

Aconcagua's main challenges are its high elevation (altitude sickness kills unacclimatized climbers on this mountain every year) near-constant high winds, and storms.
CLIMBING CERRO ACONCAGUA
Having been warned to "prepare to wait out bad weather" -- I spent six days pinned in my tent at Camp I (16,240') during a storm in February 1998. Our team arrived at Base Camp after a three day trek through the scenic Vacas and Relinchos Valleys, with our heavy gear carried by mule train. Although Aconcagua is often climbed with as many as four higher camps above base, a series of weather delays (including the big storm) caused our team to take an abbreviated approach. Anticipating time for only one summit attempt we opted for the "False Polish" route.

From Camp 1 we climbed very light to Camp 3 at 19,000', able to carry only minimal food and fuel to melt ice for water. When the weather closed in again, we were forced to dig up, thaw and eat four cans of peaches and a box of crackers that a team member had cached four years earlier.

After three cold and hungry nights at Camp 3, our summit push finally began at three in the morning. Hours later, we were nearing the last thousand vertical feet of our climb and we faced a long steep field of loose and slippery rocks known as the 'Canaleta' -- often considered the most challenging obstacle on the mountain.

One book I had read summarized it this way, "Take your worst imaginable nightmare…and double it." Ironically, the same storm which had pinned us down and made our early going difficult, delivered uncharacteristically heavy snow on this terrain feature. In short order, we were able to crampon over the Canaleta and gain the summit ridge. At the top, we were rewarded with fine views of Argentina and across Chile to the Pacific.
[click to enlarge any photo]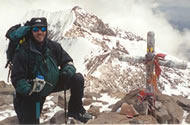 JPC summit--February 16, 1998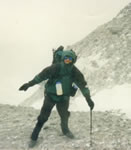 High winds at Camp I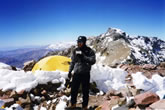 Peaches for breakfast at Camp 3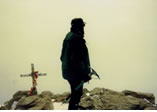 Clouds wrap summit at 22,840'